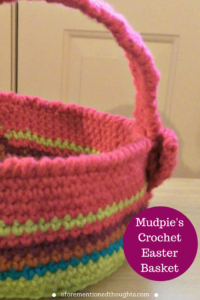 While there are many beautiful Easter baskets on market these days, I knew that I wanted to crochet Mudpie's first Easter basket for her. I loved the idea of it being her "main gift" this first Easter and something that could be used for several years as she grew. While I probably could have figured out a pattern on my own, I try to remember that it's silly to reinvent the wheel and set out on my own Easter search.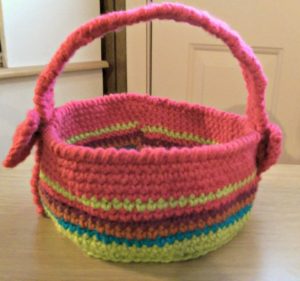 I found this
adorable pattern by Jam made
that was just the style I was looking for. I decided to use the yarn I had left over from
her baby blanket
as the color pallet. I had bought extra of each color to have for other items for her since I think it's fun that many of her items coordinate.
The pattern is simple and delightful to work up. I haven't worked with two strands of yarn at the same time before, but was surprised to find that it wasn't nearly as difficult as I thought it would be. Working with two strands created a nice and sturdy basket. The handles are sturdy too, although I find that when lifting it from the handle the basket bends just slightly so I'm thinking about maybe adding a cardboard base next year. For this year it's fine though. I think the size works well – small but still large enough to fill with goodies or eggs. I even added an extra element not in the pattern that really pushed this project over the edge into "Love!" land for me. I'll share that and what is going to be in Mudpie's basket this year a little later in the week, so stay tuned!